Summer is right around the corner and as the summer heat rises, it's time to make a splash and turn your outdoor event into a refreshing oasis. Look no further than Leaps N' Bounce, the go-to destination for inflatable bounce house rentals in the greater Rochester, NY area. Get ready to elevate your party experience by choosing from our wide range of thrilling water slides that are sure to make a splash at your next gathering.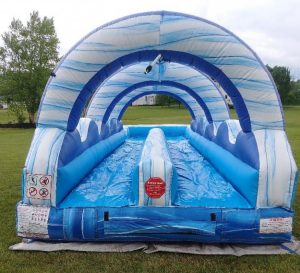 Leaps N' Bounce is your ticket to the ultimate summer adventure, offering an impressive inventory of inflatable water slides and bounce houses that will leave you exhilarated and wanting more. From twisting turns to speedy descents, our water slides are designed to provide a thrilling ride for guests of all ages. Whether you're planning a birthday party, a school fundraiser, or a corporate event, our water slides are the perfect addition to beat the summer heat and create lasting memories.
In addition to our incredible selection of inflatable water slides, Leaps N' Bounce also offers a variety of bounce houses and combo units to choose from. Whether you're looking for a combination of bounce and slide or want to explore our other options, we have something to suit every party theme and preference.
So, why settle for an ordinary outdoor event when you can make a splash with Leaps N' Bounce water slides? Contact us today at:
https://leapsnbounce.com
and let us help you turn your summer gathering into an unforgettable experience that will have everyone talking about it for years to come. Get ready to dive into excitement and create memories that will make this summer one to remember.