If you're planning an outdoor bash, grad party, or a neighborhood get-together in the Rochester, NY region, Leaps N' Bounce should be your go-to solution. The excitement is always a notch higher with Leaps N' Bounce. Our top-tier selection of bounce houses and inflatable slides can convert any ordinary gathering into a jubilant extravaganza. And the best part? Our offerings cater to every age, making us a hit at parties, regardless of the guest list.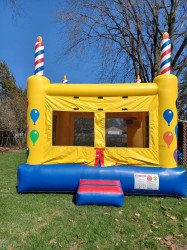 Let's imagine your next birthday bash – full of laughter, thrills, and unforgettable moments. A bounce and slide combo, sitting majestically in your backyard, would surely be the life of the party. The joy and energy that our inflatables bring are hard to match, ensuring that your special day becomes the talk of the town. School fundraisers too can benefit from our service. A giant water slide can raise both the spirits and funds while creating a day that students will remember for years to come. Not to forget the corporate events, where our inflatables can inject a healthy dose of fun, breaking the ice and facilitating easy bonding among colleagues. You'll never run out of options with our huge inventory, promising a unique touch to every event you host. We cater to different tastes and preferences, ensuring a perfect fit for your party's theme or your child's favorite cartoon character. Servicing the greater Rochester, NY area, we take pride in our commitment to punctuality, cleanliness, and safety. With us, you are not just renting an inflatable but investing in a hassle-free and memorable party experience.  So why wait? Give your next party a 'bounce' with Leaps N' Bounce. Your guests will thank you, and your event will be the highlight of the summer season, a feat hard to beat.  Learn more at:
https://leapsnbounc.com
.