When it comes to making your summer celebrations unforgettable, Rochester's Leaps N' Bounce is your premier destination. Let's jump right in to explore why we're the top pick for your party needs. Unleash a tidal wave of joy at your backyard with Leaps N' Bounce! We boast an array of inflatable slides, water slides, and our crowd-pleasing bounce and slide combos. Did we mention our dunk tanks? They're the cherry on top of a perfect summer party!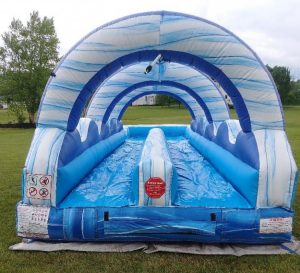 Have a birthday party on the horizon? Let us turn it into a full-blown carnival. Our bounce houses aren't just inflatable castles; they're kingdoms of laughter and fun. When your little ones jump around in our bounce houses, they aren't merely playing – they're creating lifelong memories. Thinking of a block party? Picture your entire neighborhood gathered around, children giggling as they whiz down water slides, adults cheering on those brave enough to enter the dunk tank. With Leaps N' Bounce, your block party could become the annual event everyone anticipates. What about school fundraisers? They are a breeze with our wide variety of inflatables. The sight of our towering slides can draw crowds, turning your event into an instant success. Similarly, corporate events can benefit from a fun-filled day with our inflatables, fostering camaraderie in a relaxed setting. Variety is our specialty, and we leave no stone unturned to make your party unique. Our large stock of inflatables allows you to pick and choose, matching every party's theme and every host's desire. Covering the greater Rochester, NY area, we commit to delivering on time, keeping our inflatables clean, and prioritizing your safety above all. Choosing Leaps N' Bounce means choosing a worry-free party filled with laughter, cheers, and unforgettable moments. Get ready to add that special 'bounce' to your summer parties with Leaps N' Bounce. Visit us today at:
https://leapsnbounce.com
.