Are you planning a children's birthday party? Do you want it to be a day filled with joy, laughter, and endless excitement? Look no further than Leaps N' Bounce, the ultimate party destination in the greater Rochester, NY area. Let us bring your party dreams to life! What sets us apart from the rest? We're experts in turning ordinary birthday bashes into extraordinary experiences that kids will cherish forever. Here's why Leaps N' Bounce should be your top choice for your child's special day: At Leaps N' Bounce, we provide variety galore. From playful bounce houses to thrilling water slides and dunk tank rentals, we have everything to cater to young adventurers. Pirates, princesses, or superheroes? We've got themes to make every child's imagination soar!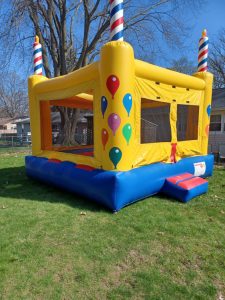 Safety is our top priority. Our inflatables are meticulously checked and set up by trained professionals to guarantee a worry-free day of fun. We understand what children love, and our inflatable slides, water slides, and bounce-and-slide combos are designed with little ones in mind, providing hours of enjoyment. We offer more than just rentals. We don't just drop off the equipment; we assist you in planning the perfect party setup. Our team is dedicated to making sure everything fits together seamlessly. Being part of the Rochester community, we know what local families want. We're always nearby and ready to bring joy to your doorstep. Additionally, we believe that planning a memorable party shouldn't be heavy on your wallet. Our packages are designed to offer the best value, ensuring that unforgettable memories don't come at a high price. Imagine the smiles on the children's faces as they jump, slide, and splash in our inflatable wonderland. Picture the delight in your child's eyes when they see a bounce house designed to match their favorite theme. That's what we do at Leaps N' Bounce, and we do it with a passion. Whether it's a small gathering in your backyard or a grand party in a park, we can handle it all. The magic we create goes beyond inflatables; it's about building joyous memories that last a lifetime. Ready to take your child's birthday celebration to new heights? Contact Leaps N' Bounce today at:
https://leapsnbounce.com
, and let's make this birthday a day to remember.