When it comes to making a splash at your next big event, Leaps N' Bounce in Rochester, NY stands unmatched. The essence of an exciting gathering often hinges on the elements of fun, and this is where we truly shine. Whether you're organizing a child's birthday bash, a spirited corporate outing, or an exuberant family reunion, our wide array of inflatables is bound to infuse a breath of fresh, jubilant air into your celebration.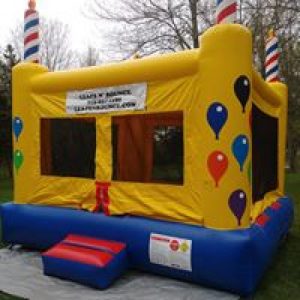 Picture this: Children's eyes lighting up as they see a colorful bounce house beckoning them for a jump. Colleagues letting loose as they slide down a gigantic inflatable water slide, forgetting all about boardroom meetings. Families competing in good spirits at the dunk tank during reunions, laughing and creating lasting memories. School events turning into the highlight of the year, with students eagerly awaiting their turn on the slide and bounce combos.
What makes Leaps N' Bounce the perfect choice for these magical moments? For starters, we are deeply rooted in the Rochester community. Our understanding of local preferences and our commitment to ensuring every event is a success sets us apart. We don't just rent out inflatables; we collaborate with our clients to make sure their vision for their event is realized in the most delightful manner.
Moreover, the versatility of our services allows us to cater to a plethora of events. Graduations, block parties, school fairs – you name it, and our inflatables can elevate it. With a vast inventory to choose from, every event feels personalized and special.
Safety, of course, remains at the forefront of our offerings. Every piece of equipment is rigorously inspected and set up by trained professionals, ensuring that fun doesn't come at the cost of safety.
At the heart of Leaps N' Bounce is a simple philosophy: Celebrations are about joy, laughter, and memories. And it's our mission to enhance every celebration with a leap of fun and a bounce of excitement. So, as you chalk out the details for your next big event, remember to add that special touch, that unparalleled joy, with Leaps N' Bounce. After all, every event deserves to jump out and be memorable.  Learn more at:
https://leapsnbounce.com
.