Every child dreams of that picture-perfect party. A day where fun meets fantasy and laughter echoes through the air. If you're in the Rochester, NY area and are looking to craft such a magical day, there's one name you should know: Leaps N' Bounce!
Imagine a world where kids can glide down water slides as shimmering as their excitement, or dive into bounce houses, their laughter lifting as high as they jump. This isn't a far-off fairyland—it's the experience Leaps N' Bounce brings right to your doorstep.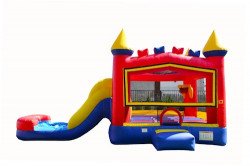 Why is Leaps N' Bounce the go-to for the ultimate children's party? For one, our collection of inflatables isn't just vast—it's vibrant, vivacious, and very much attuned to what kids want. Whether it's a daring adventure atop an inflatable slide or a playful joust in a bounce house, there's something for every child's imagination.
But it's not only about having the right tools of fun. At Leaps N' Bounce, we truly understand parties. We know that it's not just about the day itself, but the memories that linger. That's why we ensure every inflatable we provide is safe, squeaky clean, and set up to ensure maximum enjoyment.
Children's parties are magical because they celebrate innocence, joy, and the thrill of growing up. And while cakes and candles do their bit, adding a splash of Leaps N' Bounce's offerings ensures that the gleam in your child's eyes lasts long after the party winds down.
Of course, our expertise doesn't stop at birthday parties. Graduations, neighborhood block parties, and even casual backyard get-togethers can all get a dash of dazzle with our rentals.
So, as you sit down to plan your child's next bash, remember that in Rochester, there's a way to make every moment bounce with joy and leap with laughter. Leaps N' Bounce is not just a rental service; it's a passport to party perfection. Dive into the fun and let us add the bounce to your next bash.  Learn more by contacting us at:
https://leapsnbounc.com
.